Eight Tables By George Chen
We take inspiration from the historic dining style, Si Fang Cai or 'Private Chateau Cuisine,' which has been revitalized in the great cities of China. Si Fang Cai is a personal experience, as if you were coming into our home for an elaborate meal prepared in an intimate setting. Our tasting menu is created using the finest seasonal ingredients and is prepared with the utmost respect and care.
8 Kenneth Rexroth Pl. (Intersection of Vallejo St. & Columbus Ave.), San Francisco CA 94133
Open Tuesday Through Saturday 5:30pm-9pm
Reservations are required
An Unforgettable Experience
You may at first think you've lost your way walking through a wrought iron gate to a mysterious alley approaching 8 Kenneth Rexroth Place. But you are exactly where you should be. Continue forward and you will spot an entranceway guarded by two fu dragons with a singular elevator to their right transporting you up to the restrained old-world elegance of Eight Tables. Imagine you are attending a decadent banquet at George's and his wife Cindy's home, as this is exactly their intention. Treasured black and white portraits of Chen's family decorate many a wall further adding a warm welcome into his dining den, along with the sound of jazz from a bygone era playing on a vintage turntable. And then there is the extravagant mobile barcart likened to the most extravagant version of a home bar.
"Worlds Greatest Places"
-Time Magazine
Eight is considered one of the luckiest numbers in Chinese. Phonetically, the number in Mandarin, "ba", rhymes with "fa", the word for fortune or wealth. George Chen creates a unique dining experience around this auspicious number at Eight Tables, celebrating the best of Chinese cuisine. The restaurant is also aptly named for the number of dining tables inhabiting intimate, yet comfortably spacious, nooks in the restaurant.
The feast that awaits you is Chen's homage to Si Fang Cai, or private chateau cuisine, a dining style of the Qing dynasty that has been revived in recent years across China's cosmopolitan cities. It is Chinese cuisine through and through with a modern whimsy, style, and boldness, not to be confused as fusion.
"Most Beautiful Restaurant in The Americas."
-Eater
For Your Most Precious Occasions
Chef Chen's vision is to elevate Chinese to the level of any other cuisine as perceived in the West.  At Eight Tables, Chen creates a hyper-seasonal menu that respects the long deep culinary history of Greater China but interprets cuisine in modern innovative and sustainable manner. 
The décor is liken to coming to Chef Chen's understated elegant home with superior personal service. The beverage program helmed by Somm Genaro Gallo overseas 800+ rare wine selections. 
Come and Experience Eight Tables!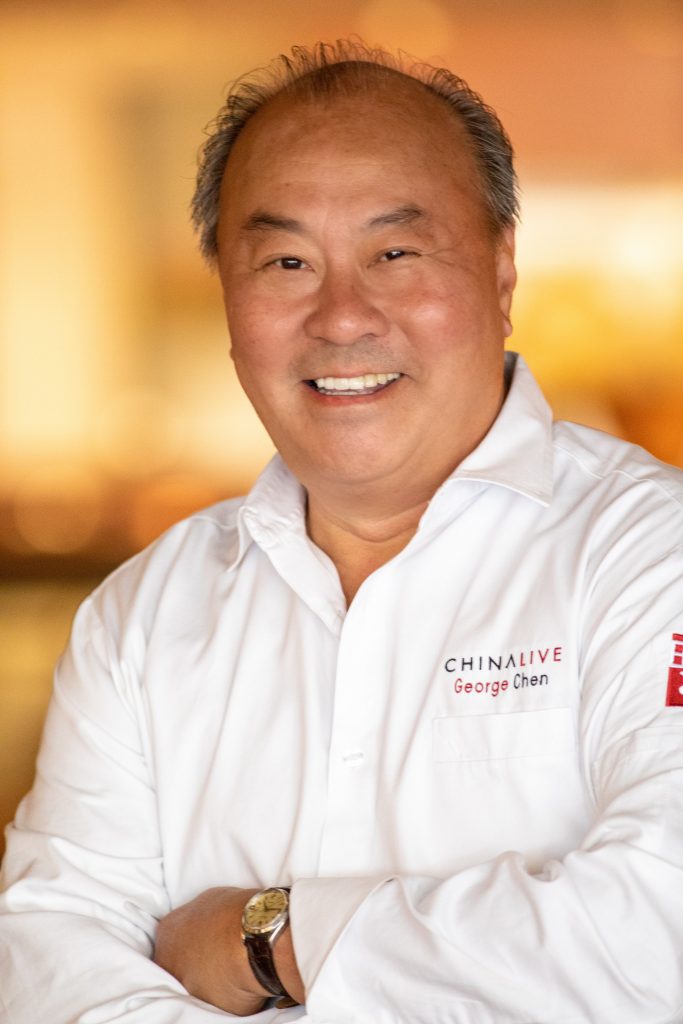 George Chen since his teens, has worked in more than a dozen restaurants before creating award winning Betelnut restaurant in 1995. Since then, Chef Chen has created and operated 16 restaurants worldwide and now is primarily focused on the entire culinary China Live experience, especially Eight Tables. Chef Chen is responsible for the creative menu development of all his restaurants and continues his mission to bring fine Chinese food to the forefront of worldwide culinary recognition.
We offer a fixed menu that features a wide variety of seafood and vegetables, with a few meat courses, and some sweets. Please plan two hours for your dinner. With advance notice, we are happy to adjust the menu to accommodate certain dietary restrictions. If you have previously dined at Eight Tables under a different name, please let us know so that we can plan a new menu for you.
Our Five Course Tasting menu is $150 per person with an optional wine pairing for $150 – plus an additional 20% service fee.
Cancelation Policy: Reservation deposit is $75 per person. Reservation deposits are final and non-refundable. Please contact us at 415-788-8788 or email at host@eighttables.com if you need further assistance.
Corkage Policy: $75 per bottle, with a maximum of 2 bottles per party.
Eight Tables On "Check Please"