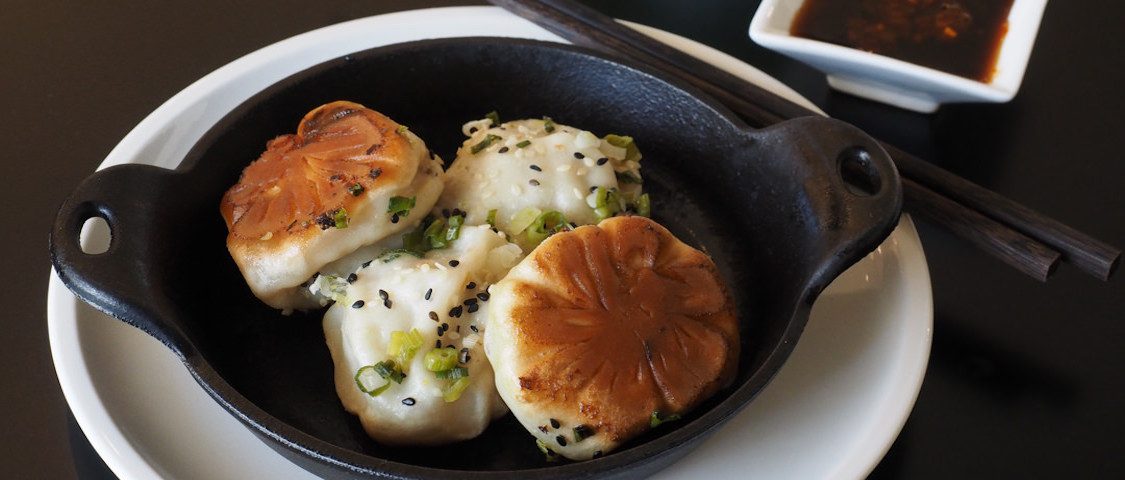 Sheng Jian Bao 生煎包
You know about Xiao Long Bao, or soup dumplings– plump little pouches of pork, ginger, and a crave-worthy, savory stock. They've become the highlight at the dim sum table. But their relative, sheng jiang bao have been just as wildly popular in Shanghai, where they originated from, and are gaining popularity especially here at China Live.
Earning their own acronym, sheng jian bao, or SJB's, are pan-fried pork buns that like XLB's contain a meat component and broth, except they are contained within a thicker, more substantial bun as opposed to the thin-as-paper dumpling skin. The bun is made from yeasted dough, while the XLB skins are made with flour and water without requiring a rise. SJB's are steamed and then pan-fried instead of only steamed. The similarity they share is the delicious pork broth enveloped inside. The secret to keeping it liquid is in the raw pork filling, literally – jellied stock is mixed in with the pork and aromatic ingredients. During cooking, the gelatin melts, yielding a delicious bit of soup.
Sheng jian bao are named after their cooking method literally translating to "raw fried bun". China Live Market Restaurant's version is fried in a large, flat, high carbon steel pan with a pine lid made in Shanghai. The technique of pan-frying the bao to perfection is to first let the pan reach a high temperature with a light coating of oil. The buns are then dropped into the pan with their top folded side down and fried to a golden brown, followed by the addition of water that steam cooks the buns through. The crispy golden buns are served four to an order. And a wooden pick injected into one of the buns warns that they are "hot and juicy" inside. They are accompanied by China Live's house xinjiang vinegar with ginger.
SJB's are a wonderful snack or meal any time of day. Although they were first introduced as breakfast food, food stalls abound everywhere in Shanghai hawking the delicious steaming hot buns. And at China Live, they are on offer throughout the day for your pork bun pleasure.