50 Most Iconic Cocktails in San Francisco in 2019
When selecting our annual list of the 50 most iconic cocktails in the city, we try to include the globally famous (the Irish coffee), cocktail geek classics (the Breakfast Negroni), citywide legends (Mai O Mai), and drinks that have become stars of their neighborhoods (Panyo Panyo in Cow Hollow and After the Gold Rush in Bernal).
There are even a few newcomers that have become iconic right out of the gate (Violet Skies), as well as some pleasant surprises—trust us, The Lark Bar's Paloma Slushy is the business. Even if you're a regular list-completer, you'll have your work cut out for you: There are many fresh drinks here. You may as well get started now.
1. Pimm's Cup at 15 Romolo
Plug and play with ginger syrup, any spirit but Scotch, Pimm's, cucumber, mint, lemon, ginger, seltzer, and bitters. // 15 Romolo Place (North Beach), 15romolo.com
2. Pineapple Sherry at ABV
It's pineapple-infused sherry, hello, and it's not on the menu. Just ask! // 3174 16th St. (Mission), abvsf.com
3. Hallelujah at Bar Agricole
Tap into Thad Vogler's private supply of armagnac, plus sweet vermouth, agricole rum, and bitters. Hallelujah. // 355 11th St. (SoMa), baragricole.co
4. Sidecar at Bix
With Cognac, curacao, and lime, what could be more classic? Well, perhaps the supper club itself. // 56 Gold St. (Jackson Square), bixrestaurant.com
5. Irish Coffee at Buena Vista Cafe
The OG, with Irish whiskey, coffee, sugar, and cream. // 2765 Hyde St. (Fisherman's Wharf), thebuenavista.com
6. Tamarindo at Che Fico
A modern icon at one of the city's buzziest restaurants, with chamomille, fernet, ginger, bourbon, and amaro. // 838 Divisadero (NoPa), chefico.com
7. Sometimes Old Fashioned at Cold Drinks
Peking duck fat-infused Speyburn 10 makes this a true original, with Dickel rye, black pepper syrup, Angostura, black lemon, and candy cap mushroom bitters. // Inside China Live, 644 Broadway (Chinatown), chinalivesf.com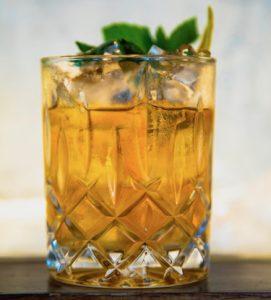 8. Cherry Bounce at Comstock Saloon
Get some pep in your step with bourbon, cherry brandy, lemon, bitters, and Champagne. // 155 Columbus Ave. (North Beach), comstocksaloon.com
9. Clear Bloody Mary at Gibson
Because you've never had another bloody like this one, with tomato water, oak-aged vodka, shochu, shoyu, fish sauce, and shichimi togarashi. // 111 Mason St. (Tenderloin), gibsonsf.com
10. Bourbon Lift at Hard Water
It's a pick-me-up: bourbon, coffee liqueur, orgeat, cream, and soda water. // Pier 3 (Embarcadero), hardwaterbar.com
11. After the Gold Rush at Holy Water
The holy quaternity of bourbon, pineapple gum syrup, apricot, and lime. // 309 Cortland Ave. (Bernal Heights), holywatersf.com
12. Hat in the Ring at Junior
Throw your, you know: gin, bitter aperitif, grapefruit, and bitters. // 2545 24th St. (Mission), juniorbarsf.com
13. Last Rites at Last Rites
Because it's eponymous; with rum, passion fruit, molasses, and spice mix. // 718 14th St. (Duboce Triangle), lastritesbar.com
14. Chinese Mai Tai at Li Po Cocktail Lounge
It was famous, then it got Bourdained; rum, Chinese liqueur, and pineapple. // 916 Grant Ave. (Chinatown), lipolounge.com
15. Ancho Chile Margarita at Mission Rock Resort
Roll with tequila, ancho chili liqueur, lime, and agave. // 817 Terry Francois Blvd. (Dogpatch), missionrockresort.com
16. Mezcal Paloma at Nopalito
More than smoke and mirrors: mezcal, artichoke liqueur, grapefruit, and soda. // 1224 9th Ave. (Inner Sunset), nopalitosf.com
17. Leeward Negroni at P.C.H. Pacific Cocktail Haven
Take shelter from the wind with gin, coconut-washed Campari, pandan cordial, and bitters. // 580 Sutter St. (TenderNob), pacificcocktailsf.com
18. La Copa Verde at Padrecito
Drink your green; mezcal, cilantro, chipotle powder, and lime. // 901 Cole St. (Cole Valley), padrecitosf.com
19. Kentucky Buck at Rickhouse
A swig of southern hospitality, with strawberry-infused bourbon, lemon, and ginger beer. // 246 Kearny St. (FiDi), rickhousebar.com
20. Smuggler's Rum Barrel at Smuggler's Cove
Drink in the tiki spirit with rum, lime, bitters, and Smuggler's Mix. // 650 Gough St. (Hayes Valley), smugglerscovesf.com
21. Spruce Goose at Spruce
Tis the season for Douglass Fir brandy, vodka, calvados, maple, lemon, and lemon bitters. // 3640 Sacramento St. (Presidio Heights), sprucesf.com
22. 20th Century at Stookey's Club Moderne
Throw it back: gin, quinine wine, creme de cacao, and lemon. // 895 Bush St. (TenderNob), stookeysclubmoderne.com
23. Dublin Honey at The Ice Cream Bar
It's a sweet ending, with Guinness, caramelized honey ice cream, Valrhona chocolate syrup, and port. // 815 Cole St. (Cole Valley), theicecreambarsf.com
24. Navy Gimlet at The Interval at Long Now
The high proof is in this gin and lime cordial. // 2 Marina Blvd. (Fort Mason), theinterval.org
25. Manhattan at The Progress
Where else will you have black butter bourbon with your vermouth and bitters? // 1525 Fillmore St. (Lower Haight), theprogress-sf.com
26. Piña Colada at The Slanted Door
It's still the best: rum, coconut cream, pineapple juice, pineapple gum syrup, and lime. // One Ferry Building, #3 (Embarcadero), slanteddoor.com
27. Prickly Pear at The Snug
Spice things up with mezcal, nopales, prickly pear, amaro, lime, and habanero. // 2301 Fillmore St. (Pacific Heights), thesnugsf.com
28. Strawberry Fields at The Tipsy Pig
You'll like this berry much: vodka, strawberries, simple syrup, soda water, and lime. // 2231 Chestnut St. (Marina), thetipsypigsf.com
29. 1934 Zombie at The Tonga Room
It may leave your head swimming with overproof rum, lime, graprefruit, cinnamon, falernum, absinthe, pomegranate, and bitters. // Fairmont Hotel, 950 Mason St. (Nob Hill), tongaroom.com
30. Tommy's Margarita at Tommy's Mexican Restaurant
As it should be: tequila, lime, agave syrup. // 5929 Geary Blvd. (Outer Richmond), tommysmexican.com
31. Mai O Mai at True Laurel
Same same but different: rum, lime, pistachio orgeat, curaçao, and coffee-rum float. // 753 Alabama St. (Mission), truelaurelsf.com
32. White Cap Martini at White Cap
Briny it on: gin and seaweed-infused dry vermouth. // 3608 Taraval St. (Outer Sunset), whitecapsf.com
33. Breakfast Negroni at Wildhawk
Go cuckoo for this Cocoa Puff–infused negroni with gin, Campari, vermouth, and chocolate salt bitters. // 3464 19th St. (Mission), wildhawksf.com
34. Bloody Mary at Zeitgeist
It needs no introduction: vodka, tomato juice, spices, and pickly garnishes. // 199 Valencia St. (Mission), zeitgeistsf.com
35. Let Me Touch Your Mind at Charmaine's
It's a piña colada topped with a negroni. Whoa. // Proper Hotel, 1100 Market St. (Civic Center), properhotel.com
36. Green Goblin at The Saratoga
So good it's spooky, with botanical vodka, Green Chartreuse, quinine aperitif, lime, and basil. // 1000 Larkin St. (TenderNob), thesaratogasf.com
37. Mr. Kotter at School Night
Welcome back to tequila, lime, curaçao, agave, and hibiscus ice. // The Pearl, 601 19th St. (Dogpatch), schoolnightsf.com
38. Jamaican Zombie at Zombie Village
Wake the dead with rum, grapefruit, lime, mango, Doc's Spice #2, and Scotch bonnet chilis. // 441 Jones St. (Tenderloin), thezombievillage.com
39. The Spritzzz at The Detour
If you must: Aperol, sparkling rose, lemon, and soda. // 2200A Market St. (Castro), detoursf.com
40. Panyo Panyo at Kaiyo
A lightly floral pisco punch with dry vermouth, rice milk, chamomile, lemon, and orange bitters. // 1838 Union St. (Cow Hollow), kaiyosf.com
41. Obispo Daiquiri at Obispo
Pure perfection, with agricole rum, absinthe, lime, and cane sugar. // 3266 24th St. (Mission), obisposf.com
42. Singapore Sling at Bon Voyage
Take a journey through gin, Benedictine, "sherry heering," lemon, and fermented pineapple ginger soda. // 584 Valencia St. (Mission), bonvoyagebar.com
43. California Cooler at Horsefeather
Gin and (celery) juice! Plus lime, thyme, sauvignon blanc, horseradish, and sparkling wine. // 528 Divisadero (NoPa), horsefeatherbar.com
44. Knife in the Water at Anina
So smooth: sherry, blanc vermouth, and gentian aperitif. // 482 Hayes St. (Hayes Valley), www.aninasf.com
45. Violet Skies at Violet's
Purple passion: mezcal, gin, strawberry brandy, coconut, cremé de violette, and lemon. // 2301 Clement St. (Outer Richmond), violets-sf.com
46. Paloma Slushy at The Lark Bar
Frozen and fizzy: tequila, lime, grapefruit, guava syrup, and Sprite. // 29 Third St. (SoMa), thelarkbar.com
47. Quarantine Order at Pagan Idol
Keep it to yourself: bitters, rum, cinnamon, passion fruit, grapefruit, and lime. // 375 Bush St. (FiDi), paganidol.com
48. Granita Applebaum at Tartine Manufactory
This one shifts shapes seasonally: mezcal, seasonal wine, granita. // 595 Alabama St. (Mission), tartinebakery.com/san-francisco/manufactory
49. SF Yacht Club at 25 Lusk
A social drinker: vodka, grapefruit, cucumber, lemon, lime, and mint. // 25 Lusk St. (SoMa), 25lusk.com
50. The Eucharist at Nopa
Commune with the spirits, specifically two kids of sherry and Scotch whisky. // 560 Divisadero St (NoPa), nopasf.com
51. Blackened at Mourad
Sate your dark heart with Blackened American Whiskey, Amaro Sibona, black tea syrup, squid ink emulsion, Mr. Black coffee liqueur, black lemon bitters, housemade black bitters, toasted pine cone tincture.
52. The Barrel-Aged Boulevardier @ One Market SF
Good things come to those who wait: Blackened American Whiskey, Campari, Vya sweet vermouth, aged five weeks in American oak.
Thank you to our partners at Blackened American Whiskey.
53. Golden Glove @ Brixton
A fine touch: Blackened American Whiskey, lime juice, velvet falernum, pineapple gum, and passion fruit purée.