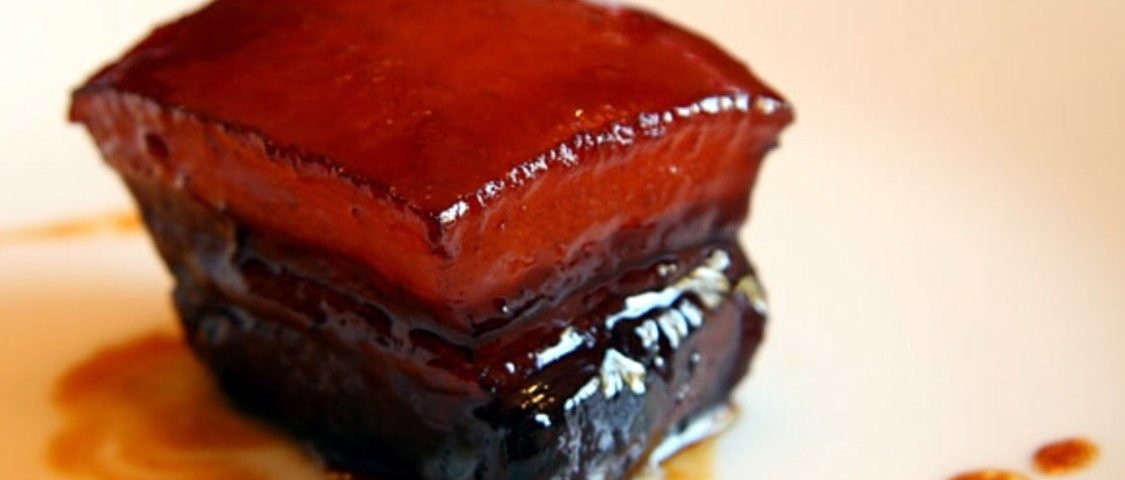 Hong Shao Rou (Red-Braised Pork) 红烧肉
A dish that has been referred to as Chairman Mao's favorite meal, red-braised pork is a Chinese classic that has become more popular to the non-Chinese palate in more recent years. Even Daniel Boulud, a famous French Chef in New York, has his version of this recipe.

The cooking process results in the reddish hue in the cooked protein. Thus, the name red-braised pork. The literal translation in Chinese is red cooked (or braised) pork pronounced, hong shao rou (hong with a long "o", shao rhymes with "tao", "roe").
Note the beautiful reddish hue in this test recipe for China Live!

Originating from Shanghai and Hunan, (although Shanghai is more classically associated with the dish), it is considered a simple, homestyle braise of usually a fattier or thicker cut of meat, but typically, pork belly is the preferred protein. Pork shank is another option when preparing a recipe at home. The result though is flavorful, tender meat morsels in a rich and savory sauce that serves as a delectable gravy over rice.

The preparation begins with blanching cubes of pork belly for several minutes to tenderize the meat and rid it of impurities. (Some recipes call instead for browning the meat.) The blanching liquid is discarded and fresh water is then added to the pot along with soy sauce. A combination of light soy sauce (lighter in color and thinner, not to be confused with low-sodium) and dark soy sauce (deeper in color and thicker) impart the dark brownish-reddish hue. Still, low sodium soy sauce can work if the former two cannot be found.

Aromatics are added to the braising liquid including slices of ginger, garlic, scallions, whole star anise, and a splash of Chinese Shaoxing cooking wine. A bit of rock sugar or regular sugar is also added helping to caramelize the sauce. The fattiness in the meat also works in thickening the liquid and creating a glossy glaze. There are of course variations depending on the recipe as some do include adding red chiles and or cassia or cinnamon in the braising mix, or even adding hard-boiled eggs into the sauce.
The Meat-Shaped Stone at the National Palace Museum
Regardless of the version in a recipe or on a restaurant menu, braised pork belly is considered a national treasure, literally. The National Palace Museum houses a sculpture of it carved in banded jasper rock simply named the Meat-Shaped Stone, considered one of the most famous of over close to 700,000 pieces in the museum. So real, it portrays the textures of pork skin down to the different layers of fat and striated meat. Even Anthony Bourdain has visited this treasure in his show The Layover. Like many artistic treasures, visitors are not even allowed to photograph the display.

Taste George Chen's version of the savory sweet treasure when China Live opens!

Spots serving red-braised pork:

China Live (opening 2017)
644 Broadway
ChinaLiveSF.Com

Sungari Dumpling House
4543 Mission Street (at Santa Rosa)
(415) 333-3681

Old Shanghai Restaurant
5145 Geary Blvd (between 15th and 16th Ave.)
(415) 386-0388

Mission Chinese Food
2234 Mission Street (between 18th and 19th Street)
(415) 863-2800

Dumpling Kitchen
1935 Taraval Street (between 29th and 30th Ave.)
(415) 682-8938

The Bund
640 Jackson St. (between Grand and Kearny)
(415) 982-0618